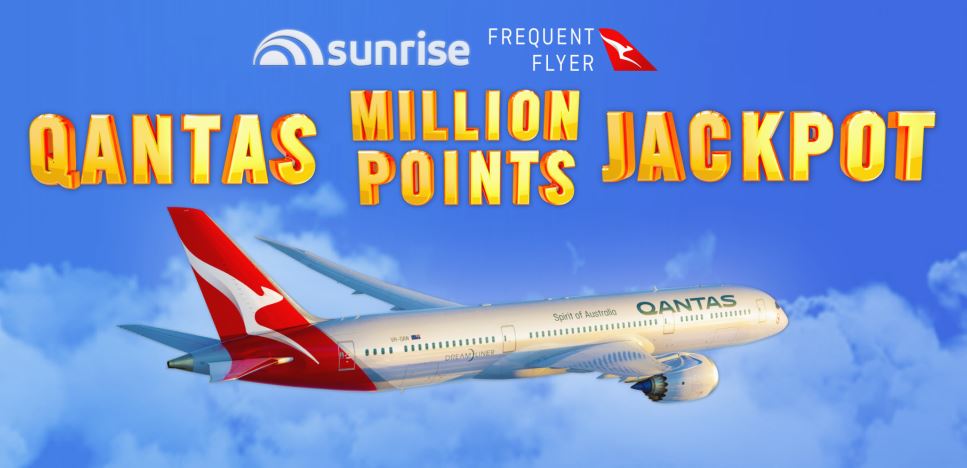 Sunrise and Qantas have teamed up in the Qantas Frequent Flyer Million Points Jackpot Competition. Enter for your chance to win 1 million Qantas Frequent Flyer points to travel anywhere you like.
Entry is open to all residents of Australia, where the Channel Seven signal is received and who are Qantas Frequent Flyer members. If you are not a Frequent Flyer member yet you can sign up for free here: qantaspoints.com/join-now?code=SUNRISE
To enter, click here to go to the official Sunrise Qantas Million Points Jackpot page.
Next, simply fill out the entry form with your name, email address, phone number and your Qantes frequent Flyer Number. Submit the form to be entered in the weekly draws.
You can also enter by sending a text message/SMS with your Qantas Frequent Flyer Number, and first name, surname and suburb to 19 700 774 (Charge $0.55).
Watch Sunrise each Friday morning and if your Qantas Frequent Flyer code is displayed on screen, log on to www.yahoo7.com.au/sunrise by 14:00 AEST/AEDT on the same day you are announced as winner and complete the web Form.
Competition closes on Thursday 1 November 2018 at 12:00.
Prizes
Major prize (1 winner per week, 26 total): A minimum of 1,000,000 Qantas Points or the jackpot amount that is available on the day of announcement of the winning Qantas Frequent Flyer Number.
Competition period
The Sunrise Qantas Million Points Jackpot Competition commences on 7 May 2018 and concludes on Thursday 1 November 2018 at 12:00.
Winners and competition results
There will be one prize winner per week; 26 prize winners in total, who will be drawn from the national pool of daily entrants received. A member of the Sunrise team will contact the Winner within 2 business days of successfully redeeming their prize online.