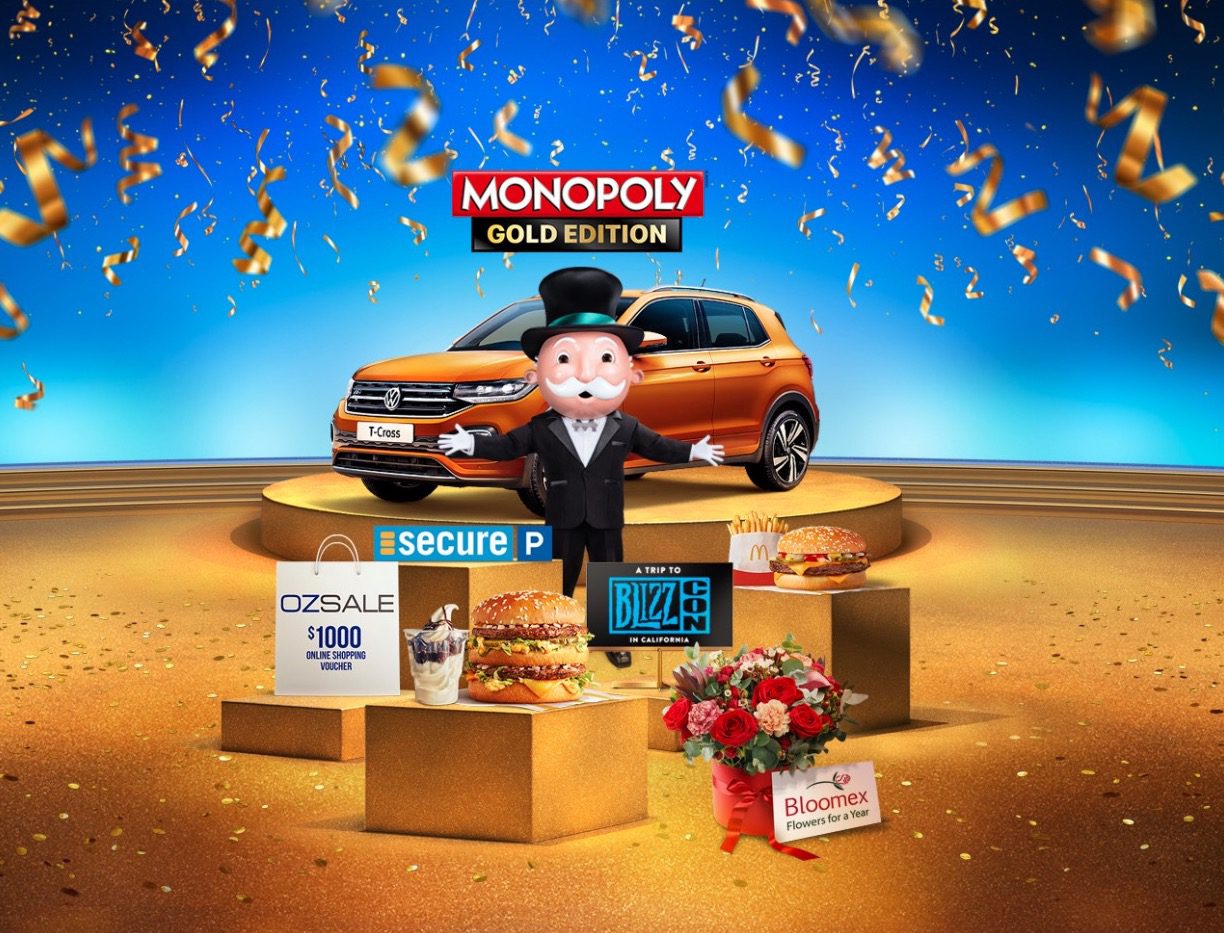 The Monopoly Game at Macca's is in full swing, with $532 million dollars' worth of prizes and a 1 in 5 chance to win instantly.
Who can enter?
.
All Australian residents aged 14 years and older.
How to Play McDonalds Monopoly 2020 Promotion?.
You must purchase any one or more Eligible Products from a McDonald's Restaurant and remove the Ticket attached to reveal a promotional message or chance card message, and the Unique Ticket Code.
How to I register my ticket?.
If the Ticket contains the Chance Card Message, it entitles the entrant to play one of three promotional games in the Application in order to reveal a digital Instant Win Ticket or Collect to Win Ticket. Play the App Game in the manner required to reveal an Electronic Ticket, each ticket will contain a promotional message and may contain a digital code.
What are the rare pieces to win "Collect to Win" prizes?.
Collect one Ticket for each
of these Monopoly Properties
Colour of
Tickets
Generic
Ticket
No.'s
Collect to Win
Prize
Value of Each
Max No.
of Prizes
Total Max
Value
Regent Street
Oxford Street
Bond Street
GREEN
A270
A271
A272
ULTIMATE
GARDENING
PACK
$936.40
15
$14,046.00
Bow Street
Marlborough Street
Vine Street
ORANGE
A240
A241
A242
YEAR OF FREE
FUEL
$3,650.00
3
$10,950.00
The Angel Islington
Euston Road
Pentonville Road
BLUE
A220
A221
A222
TRIP TO
BLIZZARD HQ
$7,000.00
3
$21,000.00
Marylebone Station
Kings Cross Station
Liverpool St Station
Fenchurch St Station
STATIONS
A290
A291
A292
A293
YEAR OF CAR
RENTAL
$20,000.00
1
$20,000.00
Pall Mall
Whitehall
Northumberland- Avenue
PURPLE
A230
A231
A232
FLOWERS FOR
A YEAR
$2,500.00
5
$12,500.00
Leicester Square
Coventry Street
Piccadilly
YELLOW
A260
A261
A262
$5,000 TRAVEL
GIFT CARD
$5,000.00
4
$20,000.00
Park Lane
Mayfair
NAVY
A280
A281
VOLKSWAGEN
T-CROSS
$43,098.75
3
$129,296.25
The Strand
Fleet Street
Trafalgar Square
RED
A250
A251
A252
$1,000 ONLINE
SHOP
VOUCHER
$1,000.00
6
$6,000.00
Old Kent Road
Whitechapel Road
BROWN
A210
A211
PREMIUM BBQ
$999.00
8
$7,992.00
How do I claim a prize?.
To claim a Collect to Win Prize or an Instant Win Non-Food Prize, you must correctly and successfully follow the directions provided via the Application (you must register for a MyMacca's Club Account and select the "REDEEM" button). You will receive different directions depending on the prize.
When can I enter?
Promotion starts on 2 September 2020 and ends at 23:59 AEDT on 25 October 2020.
What are the prizes?